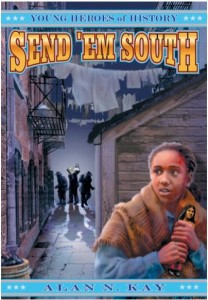 "Send 'Em South is a gripping tale…The book is well written in an easy to understand format, based on facts, that young adults will find easy to read. The story is filled with love and sadness, dedication and sacrifice. You will be captivated by these young heroes and want to travel with them through history. If you are a fan of American history I encourage you to read these books. Even with my Canadian background I find this series to be very well written, gripping and full of mystery and intrigue." — Wendy Hogan, Editor, http://www. kidsturncentral.com
————————————————————————————-
"Alan N. Kay s book, Send Em South, provides the teenage reader with an accurate feeling of the climate of prejudice in pre-Civil War America. The story doesn't just address the institutional problem of slavery, but touches profoundly on the commonly held prejudices against the Irish as well…This story tells how David, an Irish boy from Boston, and Lisa, an escaped slave from a Georgia plantation, come to the realization that they actually have quite a lot in common. Both are ostracized by society because of their backgrounds, and in many respects are treated as less than human.
Kay's book does not provide a traditionally happy ending, but it does do a fine job of exploring the moral turmoil of the time. He seeks to illustrate to young readers the fundamental unfairness of the system of racial prejudice, carried as it was even to the extreme of legalized slavery.  In doing so he may cause those same young readers to examine their own attitudes and prejudices, and reject some of them as being similarly unfair. His book must be considered a valuable aid to teaching these lessons in the classroom."  — Tim Harrison, Civil War Historian and Editor, American Civil War – The Struggle to Preserve the Union, http://www.swcivilwar.com, February 2002
————————————————————————————-
"…(Send 'Em South) is an exciting story about a dad and daughter whose love demands sacrifice, and a tribute to the bravery of two young people who manage to push past the hatred and danger swirling around them.
Although it's geared for ages 11-15, this book provides a memorable glimpse of pre-Civil War America for adults, too. It adds flesh to people of that tumultuous time, giving readers a closeup view of the emotions and events of those days, and a better understanding of the meaning of courage."   — Bonnie Bruno, editor, WonderKorner, http://www.wonderkorner.com, February, 2002
————————————————————————————-
"…The narrative moves right along in this book, thrilling the reader with harrowing escapes and a sense of danger. Many times, the story of slavery and the Civil War seems like the story of adults fighting against each other. This book does a good job of relating just how big a part kids played in that part of American history.
I also liked the ending, which was not at all what I was expecting, based on the events leading up to it.
This book is a promising beginning to what looks to be a great series, Young Heroes of History. Pick it up!" — David White, editor, Social Studies For Kids, http://www.socialstudiesforkids.com, February, 2002
————————————————————————————-
"I have to admit that I am a big fan of historical fiction, and reading Send 'Em South, the first book in this series, has made me a fan of Alan N. Kay, too….Send 'Em South is gripping and action-packed, yet it still manages to be rather touching at times. Middle school kids can empathize with their plight, and this gives the book its impetus for making history come alive, a virtue which history teachers know is largely elusive…These books can be used for more than just history classes. English and reading teachers might find them to be good materials for their classes, too.  I do want to point out that the language in these books reflects the reality of the era.  Any of you who feel that Huck Finn should be excluded from the classroom because of certain words will feel the same way about this series. The rest of us can simply delight in these stories, well-told, which can spur our students on to greater knowledge and a more personal grasp of the Civil War."  — Terry Orr, Webmaster, Teacher Information Network, http://www.teacher.com, December 2001.
————————————————————————————-
"(An) ambitious tale…emotionally wrenching…designed to let readers 'experience' history…The novel demonstrates how prejudice extends beyond black and white….In this book, with its themes of courage, friendship that ignores skin color, and the love between parent and child, the author does not flinch from portraying bigotry and the cruelty of slavery….If nothing else, this story should make them think."  –Linda Salisbury – Foreword Magazine, August 2001
————————————————————————————-
"With deft pen and simple words, Alan N. Kay has re-created the exciting world of the United States just before the Civil War…(in a) breathtaking adventure…Mr. Kay?s dialogue and characterization bring to life the historical era and give breath to these young heroes of our past"  — Linda Hutton of Hutton Book-Review Services – May 2001