"In order to understand the people of the past, we must see them as people," says Alan N. Kay, author of the Young Heroes of History, a historical fiction series for children.  An award-winning teacher with more than 20 years of experience at the secondary level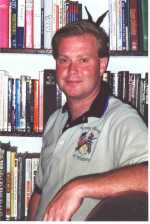 As both a teacher and an author,  Kay is known for creative teaching as well as creative writing.  In the fall of 2005, he was chosen as the Gilder Lehrman 2006 American History Teacher of Florida.  In the spring of 2004, he was chosen as the Outstanding Educator of the Year in Pinellas County from among over 8,000 teachers.  In addition, Kay is the recipient of the 2002 Daughter?s of the American Revolution National Outstanding American History Teacher of the Year award, the Florida 2002 Outstanding American History Teacher of the Year Award,  the 2001 Florida History Fair Teacher of the Year, and a Finalist for the 2001 National History Day Teacher of the Year.    He is the initiator and coordinator of the Pinellas County History Day, and has taken students to the state level each year since 1999.
Kay completed his masters in education at the University of Massachusetts in Boston and received his bachelor?s in history cum laude from Brandeis University in Waltham, Mass.   He currently teaches History at East Lake High School in Tarpon Springs, Florida.
Kay also enjoys coaching and playing ice hockey and riding bicycles.  Kay and his wife, Heidi, have three children.