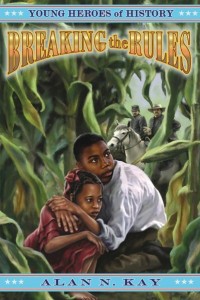 In the 1800s, even war had rules. Soldiers fought soldiers. Battles took place on open fields. Prisoners were treated with respect. And African Americans didn't fight.
But by 1863 the Civil War had become so deadly that both sides had begun breaking the rules. They attacked cities. They spied on each other. They had turned what was supposed to be a short war into an all-out life or death struggle.
In the seventh book of the Young Heroes of History series, Randy Lightfoot is an African American living in Chambersburg, Pennsylvania. Like most boys he is concerned with making friends and trying to stay out of trouble. The rules of war could not be further from his mind. Yet, when an angry Southern army marches into his hometown and begins kidnapping fugitive slaves, the invaders are ready to break even the rules that protect him.
In a desperate fight for his own freedom and the freedom of his race, Randy Lightfoot is chased, kidnapped, beaten, and enslaved at Castle Thunder in Richmond till George Adams' father rescues him. Will George and his father help Randy return to freedom? Will Randy be forced to take a stand in a war where the only rules left are the rules of survival?