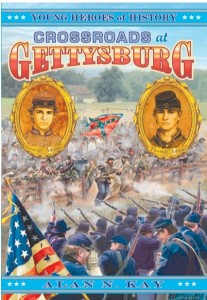 Crossroads at Gettysburg, the sixth book in the Young Heroes of History series, reaches a climax at Gettysburg. After four years of separation, the "heroes of history" are together again. But will their reunion be one of joy and laughter or death and destruction?
In the summer of 1863, George Adams returns to the North. Unfortunately for his cousins, Thomas and Mary, George is not here for a friendly visit. As a soldier in the Army of Northern Virginia, George is determined to put an end to the war.
George's commander is the famous General Robert E. Lee, a commander who has never lost a battle. Realizing that he must take the war into Yankee territory, Lee boldly commands the army to cross the Potomac River and invade the North.
On July 1, in a small Pennsylvania town called Gettysburg, the Army of the Potomac and the Army of Northern Virginia meet in preparation for a battle that will decide the fate of the entire war. Can Daniel and Thomas withstand the Confederate onslaught? Will George's gallant charge across the field lead him right into the arms of his cousin Thomas? And most importantly, will Mary recover in time to stop her brother and cousin from killing each other before it's too late?
Buy This Book on Amazon.com
Book Excerpt
Critical Reviews
Download Lesson Plans