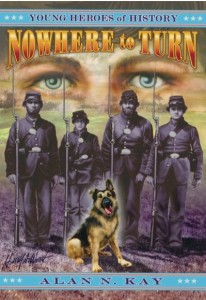 Thomas Adams lives on a farm in Pennsylvania with his aunt, uncle and cousins.  Thomas's parents have passed away, and his older brother, David, has disappeared.  Farm life is boring and miserable for Thomas, and the neighborhood boys tease him.  When the Civil War comes, Thomas thinks this is his chance to get away from the farm.  The glory and thrill of going off to fight is exciting to a young farm hand until the battle turns into a slaughter and Thomas runs from the battle.
It is only when Thomas is left with nowhere to turn that he finally discovers his bravery.  With the help of his faithful dog, Blue, as well as some extraordinary good luck, Thomas finally overcomes his fears and rejoins the army to help save the country.  In the meantime, General Lee and the Army of Northern Virginia have invaded the North.  In a small town classed Sharpsburg, which borders Antietam Creek, a battle is about to be fought that will determine the outcome of the war.  Will Tomas fight or will he run?  Will he survive?
Set amidst the chaos surrounding the Battle of Antietam, Nowhere to Turn is a story about finding courage, becoming a man, and the companionship between a boy and his dog.