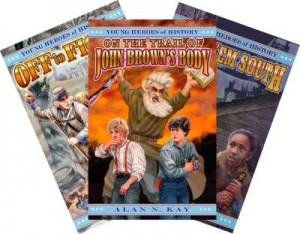 If you have any questions about Young Heroes of History please Contact Us
Reader comments are encouraged.  We adhere to a strict privacy policy   Please Contact Us with reader comments and reviews.
If you are a bookstore, or teacher looking for classroom sets and require ordering information or have other questions, contact the publisher, White Mane Kids at 888 -WHT-MANE (888-948-6263).  They are available via email at marketing@whitemane.com or visit their web site at www.whitemane.com.
Individual copies of The Young Heroes of History Books are available on Amazon.com and through major bookstores including Barnes & Noble.   If the bookstore near you does not carry the Young Heroes of History Titles, you may special order the books through the bookstore manager and they will notify you when the books arrive.
To join our mailing list
and receive announcements of new books in the Young Heroes of History series, Contact Us.  In the subject line please type "mailing list." No other information is required.  All information will remain confidential and used ONLY for notification of new books by Alan Kay.  Minors must ask their parents to join our mailing list on their behalf.   Read our privacy policy.